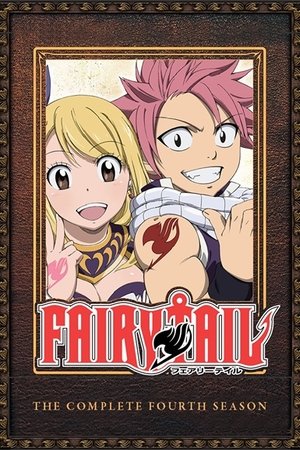 Episodes List
Ep.1

Sabertooth
Air Date: 2012-10-06
Legion pays Fairy Tail a special visit! Fairy Tail learns of Sabertooth, the number one guild in Fiore! And what lies beneath the original Fairy Tail base of operations?!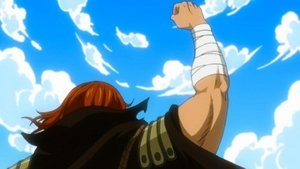 Ep.2

We Aim For The Top!
Air Date: 2012-10-13
Natsu meets up with Max and they decide to have a showdown. Being pushed back, Natsu has to enter his Lightning Flame Dragon Mode to defeat Max. Surprised at the difference between the power 7 years ago and now, Natsu and others visit Porlyusica to ask her for a medicine. At the guild, Makarov attempts to announce a new guild master but the things are quickly turned around when everyone finds out that Gildarts decided to leave for another journey. Later, with teary eyes Wendy tells everyone that Porlyusica's smell and voice reminds her of Grandeeney. Back at the guild, Makarov decides that Fairy Tail will join an exciting event in order for them to regain the top spot - the Grand Magic Games.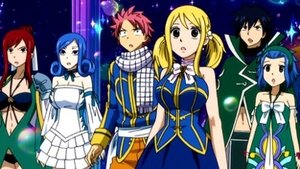 Ep.3

Song of the Stars
Air Date: 2012-10-20
Fairy Tail's best is back, but to rock the Grand Magic Games, they've got to make up seven years worth of time in only 3 months! It's time for some seriously hard training! But before that, a little party in the Spirit World can't hurt, right?
Ep.4

Just Enough Time to Pass Each Other
Air Date: 2012-10-27
There are only five days left 'til the Grand Magic Games begin, but Natsu and company still aren't ready for it. But then they meet up with Crime Sorciere, a small, independent guild led by an old frenemy. The members of this newish guild promise to help Fairy Tail "power up" in exchange for a favor...
Ep.5

Crocus, the Blooming Capital
Air Date: 2012-11-03
Natsu, Lucy, Gray, Erza, and Wendy are chosen to represent their guild in the Grand Magic Games, which are to be held in Fiore's capital Crocus. As they tour the city, Natsu and his friends meet Sting and Rogue, who mock Natsu for not being able to kill Acnologia and boast killing the dragons who raised them. At midnight that night, Fairy Tail and the other participating guilds are put through a preliminary event—a race through a massive floating labyrinth—designed to narrow the guilds down to eight teams.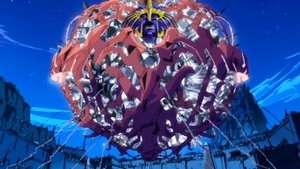 Ep.6

Sky Labyrinth
Air Date: 2012-11-10
In the elimination round, Natsu and the others have to make their way through the Sky Labyrinth, a giant mind-bending maze full of rotating walls and vicious rivals!
Ep.7

New Guild
Air Date: 2012-11-17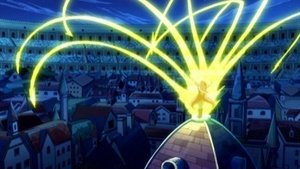 Ep.8

Night of Shooting Stars
Air Date: 2012-11-24
Ep.9

Lucy vs. Flare
Air Date: 2012-12-01
In the first battle of the first day of the Magic Games, Lucy is pitted against Raven Tail's Flare, whose long locks are deadly.
Ep.10

Portent
Air Date: 2012-12-08
Ep.11

Chariot
Air Date: 2012-12-15
Ep.12

Elfman vs. Bacchus
Air Date: 2012-12-22
The battle portions of the second day continue with Kurohebi defeating Toby Horhorta and then showing his crueller side by ripping Toby's prized sock. Whilst everyone is watching the Games, malicious activities seem to be happening in the background, with Wendy, Porlyusica and Carla almost being kidnapped! In the midst of this chaos, an error by Arcadios sees Elfman fighting Bacchus.
Ep.13

Mirajane vs. Jenny
Air Date: 2013-01-05
Instead of duking it out for their match, former pinup models Mirajane and Jenny go head to head in a crowd-pleasing swimsuit pageant.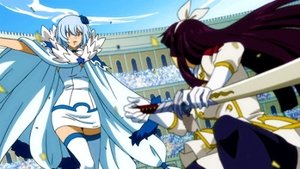 Ep.14

Kagura vs. Yukino
Air Date: 2013-01-12
The last battle of the second day pits Kagura, Mermaid Heel's strongest wizard against Yukino, a young Celestial Spirit Wizard on Sabertooth's side.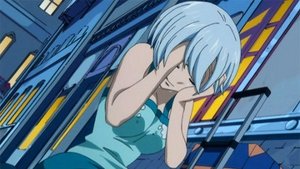 Ep.15

Grudges are Wrapped in the Silence of the Night
Air Date: 2013-01-19
Ep.16

Pandemonium
Air Date: 2013-01-26
Confronted by the Sabertooth Guild Master himself, Jiemma, Natsu decides to fight him all-out in their lodgings. Despite his attacks, he is unable to deal even a scratch on him. Eventually, their "fight" is interrupted with the arrival of Minerva and her hostage, Happy, forcing Natsu to leave reluctantly. The following day, the Grand Magic Games resume with a new event: Pandemonium. However, the beasts within the domain of this event appear to be quite challenging for the participants.
Ep.17

100 versus 1
Air Date: 2013-02-02
In the event called Pandemonium, Erza has opted to take on 100 powerful magic-generated monsters by herself...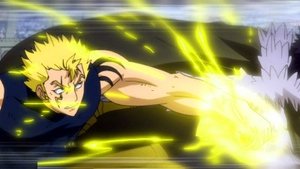 Ep.18

Laxus vs. Alexei
Air Date: 2013-02-09
The third day of the Grand Magic Games proceeds into the battle portions. The first match, Mermaid Heel's Millianna and Quatro Puppy's Semmes, results in an unexpected win. Rufus Lohr easily dominates Eve Tearm in the following match. Then, in the next match between the father-and-son Guilds, an unexpected play from Raven Tail seemingly gives them an incredible advantage against even Laxus Dreyar.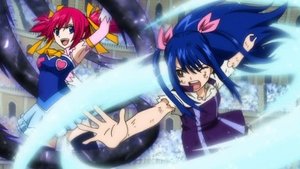 Ep.19

Wendy vs. Cheria
Air Date: 2013-02-16
Laxus takes on Raven Tail's elite, but they're after something more than a win! And then there's Wendy vs.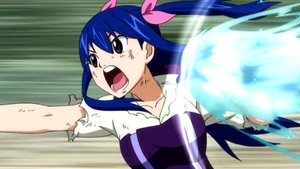 Ep.20

Small Fist
Air Date: 2013-02-23
The match between Wendy Marvell and Chelia Blendy continues, with Chelia using her ultimate move. Elsewhere, Jellal watches the match, noting the dark magic. However, as the battle ends, he realizes that the evil aura is coming from someone else. As he tries to chase the mysterious person, he is quickly intercepted by Doranbolt and Lahar.
Ep.21

Naval Battle
Air Date: 2013-03-02
As Fairy Tail happily parties in a bar to celebrate their earlier victories, others all around Crocus contemplate the harsh realities of things they have witnessed on the third day, and those to come. Malice also lurks in Sabertooth, as, in the Naval Battle event the following day, Minerva succeeds in brutally attacking Lucy as a demonstration of her guilds power.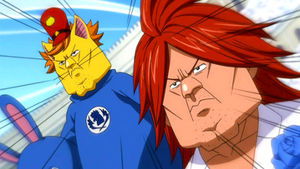 Ep.22

The Perfume I Dedicate to You
Air Date: 2013-03-09
Whilst Lucy is in the infirmary due to Minerva's cruel play in the Naval Battle event, Fairy Tail Team A and B are forced to merge to even out the odd number of teams. With tension building between Sabertooth and Fairy Tail, the tag battles begin with Team Blue Pegasus against Team Quatro Puppy, the man in the blue bunny suit finally revealing his identity.
Ep.23

Battle of Dragon Slayers
Air Date: 2013-03-16
The fourth day of the X791 Grand Magic Games continue with the second match of the day, Lamia Scale against Mermaid Heel. Both sides struggle to win, only to end the battle in a draw, leading to the beginning of the last match between Fairy Tail's and Sabertooth's Dragon Slayers.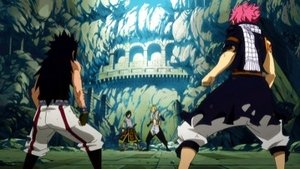 Ep.24

Four Dragons
Air Date: 2013-03-23
The fourth day's final battle between Sabertooth and Fairy Tail kicks off with Natsu and Gajeel proving themselves as formidable opponents against the Twin Dragons of Sabertooth, but when push comes to shove, Sting and Rogue decide to utilize their trump card and turn the tides of the battle.
Ep.25

Natsu vs. the Twin Dragons
Air Date: 2013-03-30
The tag battle of the Dragon Slayers comes to a close, with Natsu intrepidly overpowering the combined attacks of Sting and Rogue. The Sabertooth members watch in dismay, whilst Jiemma seethes in anger over the defeat of the Twin Dragons, causing the nearby spectators to be frightened away. On the contrary, the rest of Fairy Tail celebrates in joy as its team receives 10 points, finally surpassing Team Sabertooth by only a single point. Meanwhile, Gajeel, back to his senses after being dragged by Natsu into a cart earlier, stumbles upon a cave full of dragon skeletons, much to his shock. And during that night, Jellal finally manages to corner the source of the dark aura, standing in complete disbelief at the identity of the mysterious, hooded person.