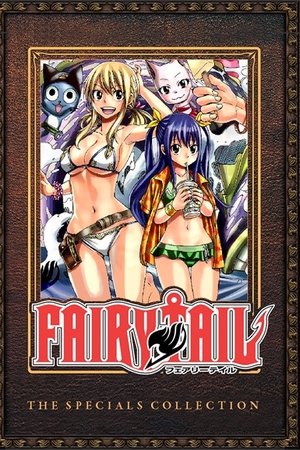 Episodes List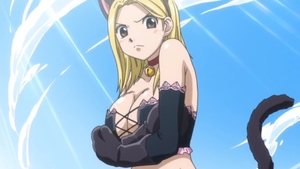 Ep.1

Welcome to Fairy Hills!!
Air Date: 2011-04-15
Lucy notices a mysterious hand-written request in which the client is looking for an object located in Fairy Tail's female dormitory, Fairy Hills. To ensure that the job is not a prank, she goes to verify it. Once she reaches the dormitory, she learns that the client is Hilda, the dorm's head, who asks her to find a "shining treasure" while wearing an embarrassing cat outfit.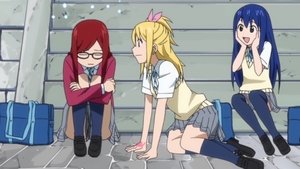 Ep.2

Fairy Academy: Yankee-kun and Yankee-chan
Air Date: 2011-06-17
Lucy Heartfilia is a transfer student at Fairy Academy. So are Natsu, Wendy, Erza, Gray, and the gang. But with such unpredictable classmates in Fairy Academy, trouble is not far ahead. A rival school is causing trouble for the gang, Gajeel and Juvia at the head, and Natsu and Gray set out to stop them. Meanwhile, Erza, the class president, is experiencing romance issues about a handsome stranger.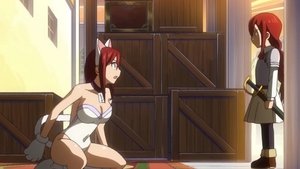 Ep.3

Memory Days
Air Date: 2012-02-17
An all-new original story storyboarded by Hiro Mashima, the author of Fairy Tail, released on February 17, 2012. "Natsu's Secret" is going to be revealed in the "Past World"?! Guided by a "magic book" that's lying in the Guild's storage room, Natsu, Lucy, Happy, Gray, and Erza have traveled back into the past!!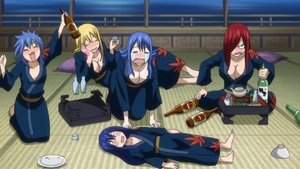 Ep.4

Fairies' Training Camp
Air Date: 2012-11-16
Mavis is bored staying alone in Tenrou Island, so she decides to pay the guild a visit, unaware that the Fairy Tail members are going to the beach for a training camp which she decides to tag along as well. The group faces a lot of trouble that are caused by Natsu and Gray. What would happen if the girls got drunk?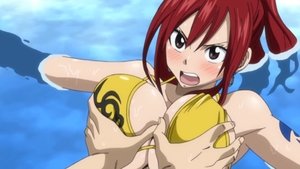 Ep.5

The Exciting Ryuzetsu Land
Air Date: 2013-06-17
During the Grand Magic Games, the Mages of Fairy Tail head to the popular resort known as Ryuzetsu Land, seeking to relax. While interacting with their friends and even members of other guilds, the crazy antics of Fairy Tail soon lead to trouble for everyone.
Ep.6

Fairy Tail x Rave
Air Date: 2013-08-16
In a town far away, Lucy, Natsu and Happy, from Mashima's Fairy Tail manga, are on a mission to find a troublemaker and deal with her. Due to unknown circumstances they get separated. The same happens to Elie and Haru, from Mashima's Rave Master manga. Lucy and Elie manage to meet each other and together they try to find their respective partners..
Ep.7

Fairies' Penalty Game
Air Date: 2016-05-20
Due to the bet they made during the Grand Magic Games, the time has finally come for Team Fairy Tail A and B to decide who will have the privilege to make the other team do whatever they desire, leading to a day's worth of antics from the two parties.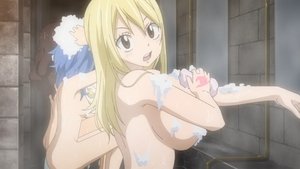 Ep.8

Natsu vs. Mavis
Air Date: 2016-11-17
After Erza recruits Natsu to assist Mavis by allowing her to enjoy the qualities of a hot bath, Team Natsu and Juvia take up Warrod's request to look for a hidden treasure buried by the First Master herself 100 years ago, although the task becomes much harder than it was initially let on.
Ep.9

Fairies' Christmas
Air Date: 2016-12-16
Lucy's apartment becomes the venue for a Christmas party for some of her friends. But the celebration soon devolves into chaos as Erza forces the rest of the guild into playing the Guild Master's Game with her. Erza proves merciless as she orders her friends to perform embarrassing acts. Gray finally manages to avenge everybody and orders Erza to walk home naked at the end of the game. As she leaves the party, she runs into Jellal, who kindly covers her up and accompanies her home.